"And there in the dry olive Groves, where alone the blue sky with cicadas and the hard earth exist, here the prodigy, the perfect capsules of the olives filling with their constellations, the foliage then later,the bowls, the miracle, the olive oil"

Pablo Neruda
---
Our Blends
OUR GOAL IS TO PRODUCE A SUPERIOR QUALITY EXTRA VIRGIN OLIVE OIL.
The philosophy of Casale San Giorgio is to produce a superior quality extra virgin olive oil. In order to benefit from local cultivation and harvest, Casale San Giorgio has set up its very own oil mill, in the countryside, to press and bottle on site. The productive aspect is characterized by a high density cultivation method that allows to have a high quality product, since it is possible to harvest 11000 kilos of olives in 4 hours and to press it all in 5.
This prevents the fruit (olive) from oxidization and because of the rapidness of the system (harvest/ pressing) the organic and sensorial qualities of an extra virgin olive oil that is defined of superior quality are maintained. Our cultivations allow us to produce two varieties of extra virgin olive oil: the Ponentino, with its smooth and delicate taste, and the Maestrale, a deeper flavour. The oil mill of Casale San Giorgio is open to the public to press their own olives guaranteeing a quality pressing.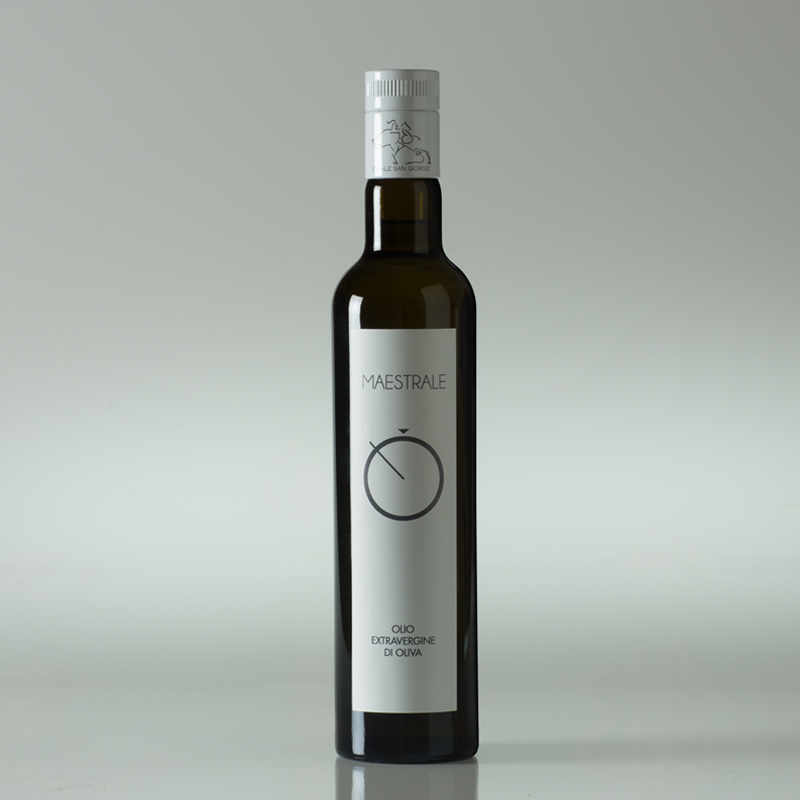 Maestrale Oil

This oil has a strong personality and a decisive and fragrant flavour. You can feel it's greenness and pungent notes but highly harmonious nonetheless.The flavour is balanced, with a hint of artichoke, walnut, hazelnut, green tomatos and whit a delightful grassy and flowery feel.
Because of the high value of its chemical and organic qualities it plays a main role in the mediterranean cuisine, famous world wide for being flavourful and light. Finally it releases a note of bitterness and ends with a hint of spiceness.
Variety: Koroneiki and Sikitita based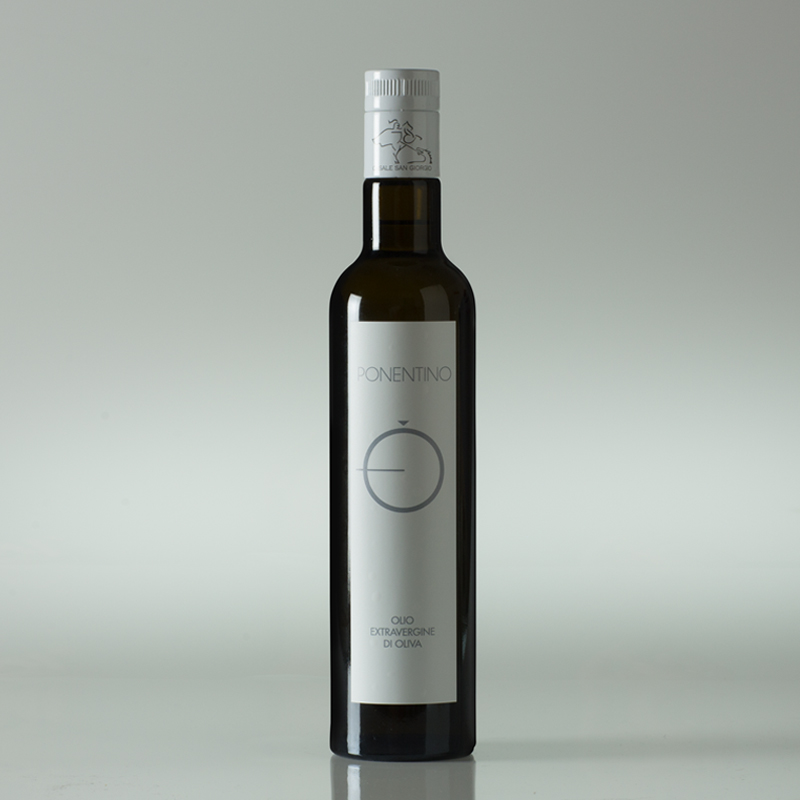 Ponentino Oil

A taste that is delicate and yet has a noticeably fresh sensation accompanied by intense aromas. The flavour is perfectly balanced with an aftertaste that ranges from hazelnut to almond, to apple and artichoke and a hint of green tomato and with a pleasing herbal sent.
For its organic traits and because it is highly harmonious it can be considered as a universal and international oil, therefore ideal for any type of gastronomic use.
The final note of spicy is lighter.?
Variety:Arbequina and Arbosana based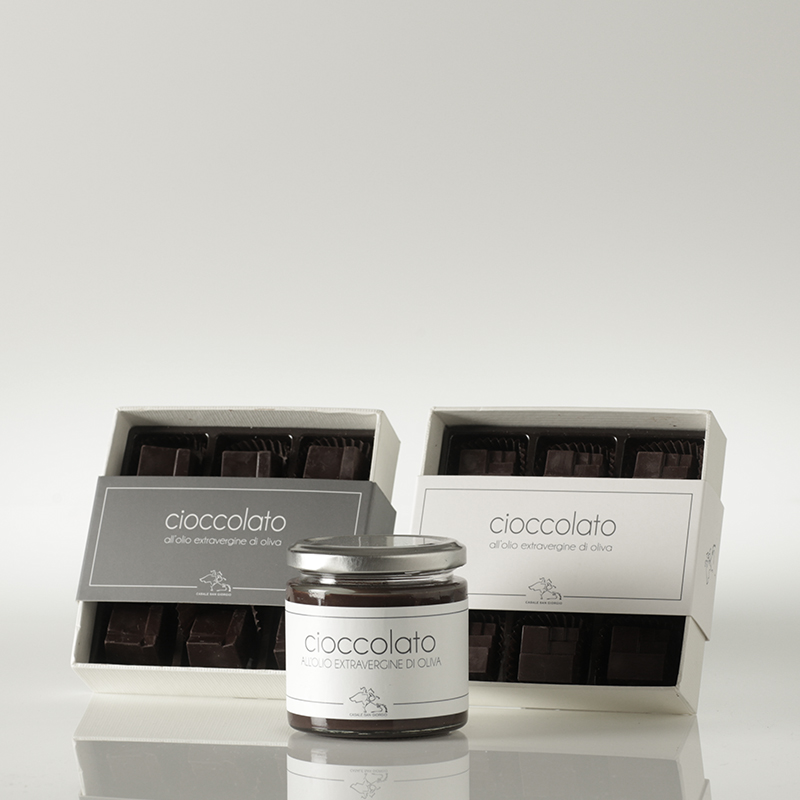 Chocolate
The knowledge of an expert maitre chocolatier,
allows us to produce a delicious chocolate.
The cocoa and hazelnut cream is velvety soft,
made spreadable by our extra vergin olive oil..
The dark chocolates are of two kinds.
The first is filled with gianduia, a milk chocolate,
hazelnut and extra vergin olive oil paste.
The second is with ganache cream made from white
chocolate emulsified with Casale San Giorgio
extra virgin olive oil.
In our products there are no coloring agents or preservatives, no hydrogenated fat and no GMO. No corn, palm or cocconut oil. No rapeseed oil or any other seed oil.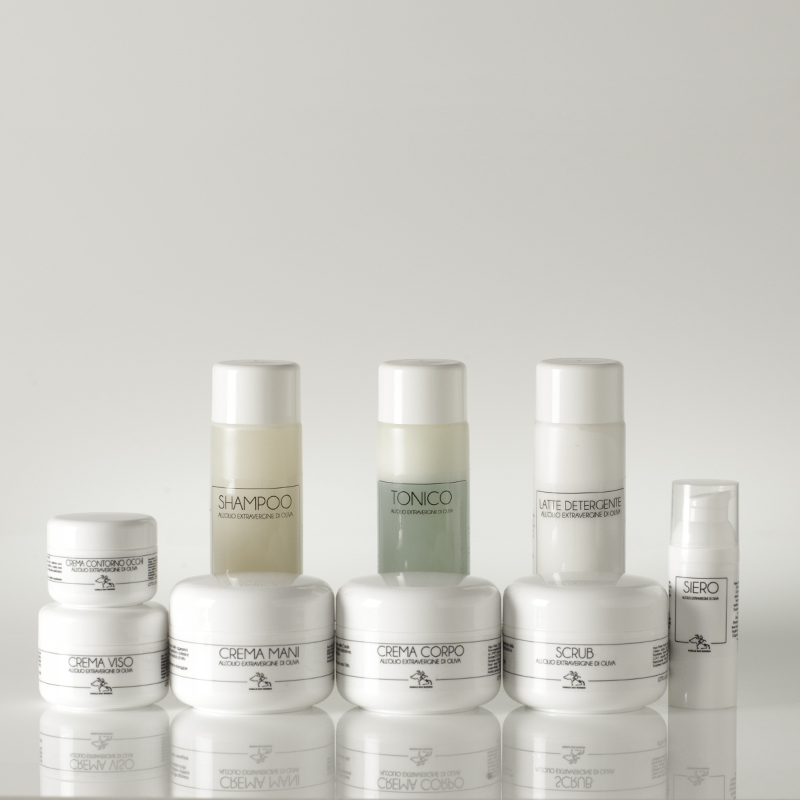 Cosmetics
Our creams are produced with the cooperation
of an important comsmetic company.
Made with exclusive formulas and obtained
by using our extra virgin olive oil as the main
and essential ingredient.
The acid fat, the vitamins and minerals
contained in the oil are able to reduce skin
irritation and to prevent chappy skin,
moreover it can act on signs of skin aging,
restoring softness, shine and glow.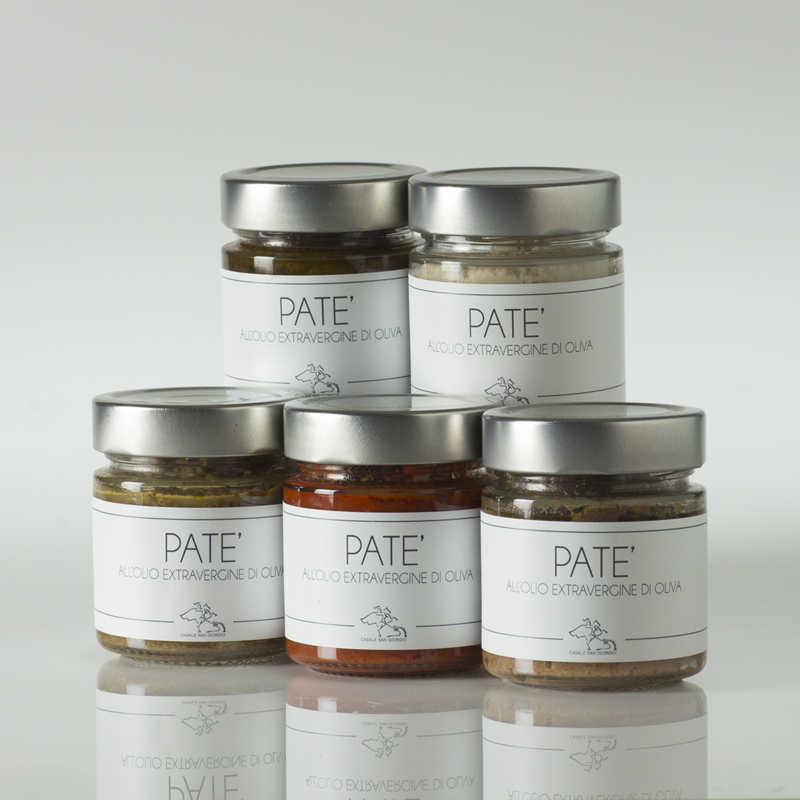 PatÉ and Jams
The patés are made by using carefully selected ingredients.
The vegetables are harvested at the correct ripening stage, so that it can then be sliced, flash cooked and given flavour by its long period of maturing in the extra vergin olive oil.
This preparation maintains inaltered the original nutritional factors. The flavour, the smell and the taste are those of the mediterranean tradition.